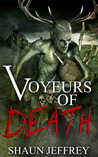 Voyeurs of Death
by
Shaun Jeffrey
My rating:
5 of 5 stars
Voyeurs of Death is made of 20 short stories, each is a stand-alone tale that won't take long to finish.
Though not all stories are horror, they all carry a line of darkness that places them in the macabre section.
Be prepared when you're about to read the book for a shift in perception, similar to the 3D effect in movies. It's as though the author is straddling a line that allows him to see our world and a darker, grimmer variation of it on the other side. Examples: 'Bugs' and 'Park Life.'
And even though I liked some more than others (it can't be avoided in a collection), this book is definitely a keeper on my bookshelf.
View all my reviews